Iconoid Application helps you better use in your Windows desktop icons
Everybody wants to keep their desktop neatly. Every time when we are downloading the files and data from the internet we are not observed where it is downloading.
So unfortunately it was downloaded on the desktop. After some days our desktop will looks like so clumsy. So here when we are opened our system it looks not nice.
So here may get some distractions from the apps. So need to keep them all as randomly. For windows users here one application will provided some wonderful benefits.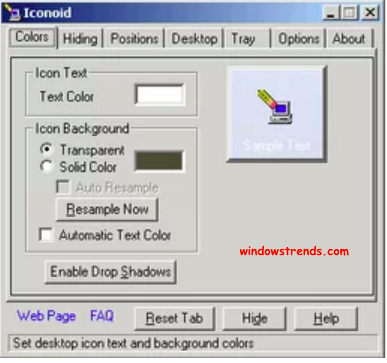 The Iconoid application will provide some wonderful benefits to its users.
In this article I am going to tell Iconoid applications and how it will useful for the users. The Iconoid application uses in windows are as follows.
How to use Iconoid in Windows 10 OS?
The below are the uses of the Iconoid software application.
This desktop application will helps you to manage the icons on the desktop. When we are shutdown our PC and when we are switched on the positions of the icons were may changed.
In this situation this application will restored the icons in the same position.
Some icons will looks in the different color. So normally we will think that about that application and we cannot concentrate on the normal work.
So by using this application we can change the icons color and back ground color also. So it will become more attractive to see the icons.
Somebody unfortunately may use your system without your permission.
In this situation you can hide the icons which you would not show on the desktop for others.
By using this iconoid application we can change the desktop settings manually. So here you can access the desktop settings directly.
Here you can change your display settings, display tool tips and many more.
By installing the Iconoid desktop application you would be enjoyed with these amazing features. So these are the uses of the Iconoid application in windows.