How to Change Default Search Engine in Microsoft Edge (Google, DuckDuckGo, etc)
The users of Microsoft edge uses Bing search engine as its default search engine. But if you want to change your default search engine that facility is also available in the Microsoft edge version.
Edge can use any search engine that supports open search as its default. Microsoft edge did not support the internet explorer as like as other windows versions.
But we cannot worry about that, because we can switch to our favorite web browser that we can choose that browser as default web browser.
In this we provide you the information about how to change the default search engine from Bing to our favorite search engine.
The below are the steps to follow for changing the default search engine.
Steps to follow to change the default search engine in Microsoft Edge
The below are the steps to follow to change the default search engine.
First of all visit the search engine that which you have to make it as default search engine. If you want install Google, visit Google home page or else you have to make other search engine as default then open its home page. Then follow the below steps.
Then click on the menu button on the top right side of the window.
In that select the settings option and then click on the 'view advanced settings' button near the button.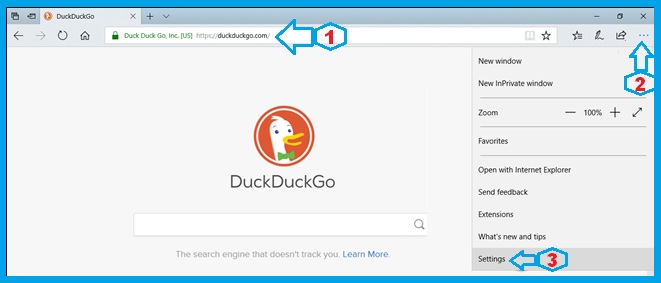 Next scroll down in the "advance settings" panel and you will see the option called 'change the search engine'.
Then you will see a list of available search engines you want to make default and click on the option "set as default".
From then the selected search engine is now the default for Microsoft search engine.
After you have done with all this steps then you can able to open your favorite search as default one.